An the end-user view the respondent tables looks like in the example images above. If the table is bigger than the size of the used object box a scroll bar appears, also paging is used for better performance.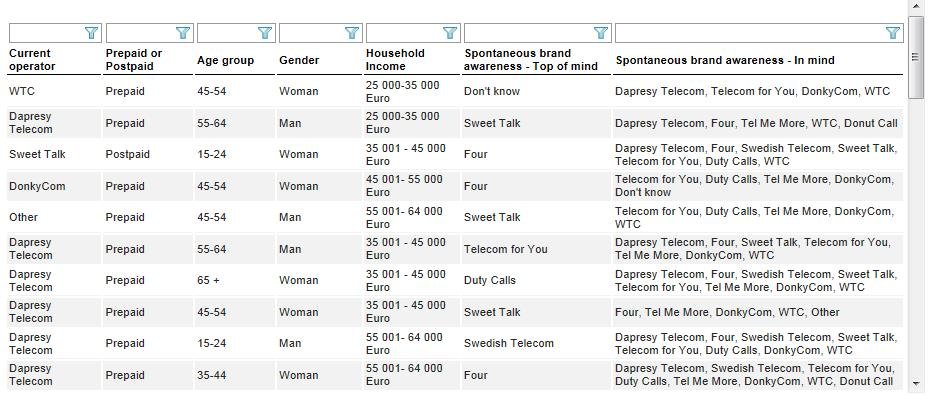 It is possible to view the table in Full screen, to do that move the mouse over the table and click "View in Full screen".

If the Search feature has been enabled in the table it is possible to search/filter the data in each column. Simply enter a search criterion and click Enter or click the Funnel icon. To sort he columns ascending/descending you can click the column headers. First click sort ascending, second descending and the third gives the default sort order.
The tables are included in the PowerPoint export as images (not real tables) and can also be exported to Excel. To export a table to Excel hover the mouse over the table and click the Export button.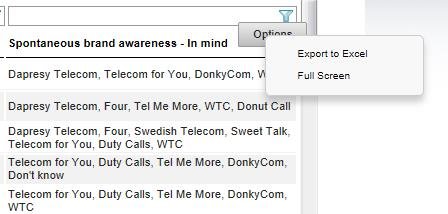 In PowerPoint export the logic "what you see is what you get" (WYSIWYG) is applied. So if the table is much bigger than the object box which adds paging and scroll bars to the table, only the default view will be included as a screen-shot if the table is inserted in a PowerPoint export.
If Optional filters are active the following affects the Respondent Table;
Hierarchical Filters
Filters
Time period
Variable subset