A filter allows users to restrict/group the data that are included in a reporting object. When you define a filter, you specify characteristics that the data must have to be included or filtered by. To define a filter, first make a selection in Admin pages and enable the filters in reports. 
Once you are on Filters tab under Reporting objects you can define which questions (and newly created variables) will be available as filters throughout your reports. Simply select the relevant variables by ticking them in the 1st column on the left and hit save.
Step by step
1.         Access Reporting Objects section and go to Filters icon.
2.         The page lists all variables. Select which one to use in the reporting as Filters.
3.         Save the new selection.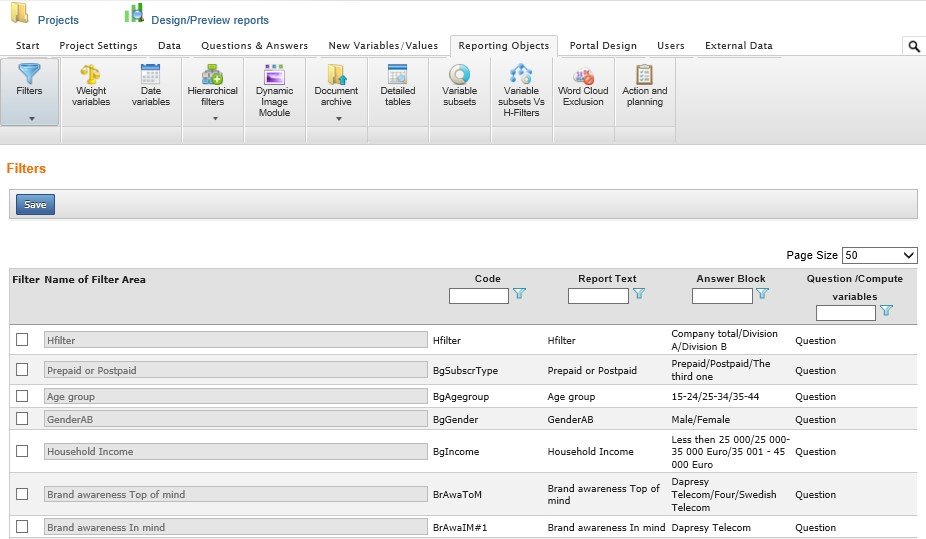 Note: filters can only be based on categorical questions. If your question does not appear in the list here above, please check the question type.
If you are dealing with a large set of variables, you can filter and search using the text boxes at the top of each column. Each Variable can have a new name assigned by changing the name in the name box.
The filters selected above in the Admin pages are now a potential filter for your specific chart or an optional filter for your report. 
In the design/preview mode you can see that Filters & Settings tab contains optional filters icon – as shown in the image below: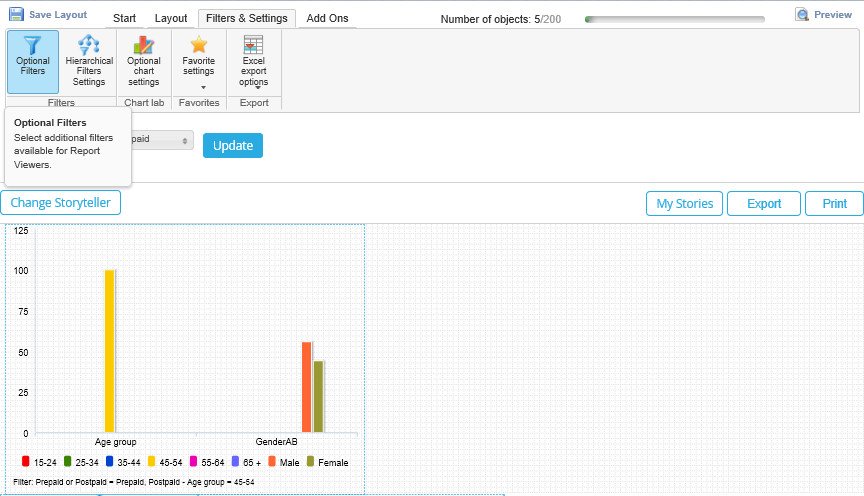 If you press this icon "Optional Filters" you will be presented with the new screen, where you can make different adjustment to optional filters – as shown in the image below:
In the Filter tab as shown in the image below, the first row is an apply all option. By using this options the setup will be more efficient. 
Besides the optional filters, a graph can be filtered in general. Once we enter the graph we can see under Filters section a sub menu with optional filters. Here you can chose which optional filters, from the menu presented earlier, will apply to your chart. If this is applied, the chart will always show filtered data!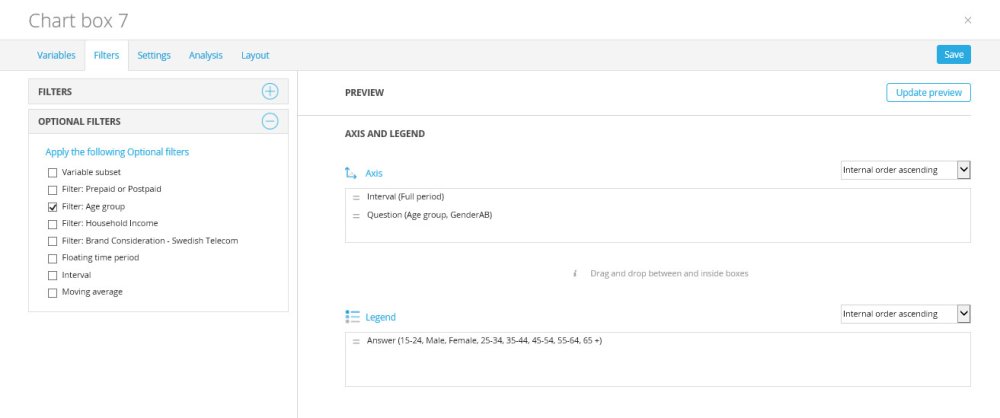 Note: in the filter settings you'll see the option to hide a filter. This is used to filter a complete report instead of selecting this filter chart by chart. However, please note that in case your users aren't allowed to see this part of the data because of security reasons, you have to use the user access rights too, as the hide filter option is a setting in the browser side, which is not secure enough.