When running significance tests, you can define a starting letter/character for your comparisons (the characters are used to indicate to which value another value has been tested against). 
It is useful to have the ability to select a starting letters/characters when you have many table objects aligned next to each other. From the report user view, this will look like one table. In these situations, it is not intuitive to have the same characters in multiple places within the table. So, by selecting different starting characters, this issue can be avoided.
The image below shows three different examples. The table on the left shows the default option which uses "a" as the starting letter. The table in the middle uses "A" as the starting letter. And the table on the right uses "G" as the starting letter.

You can define the starting letter by simply choosing from the drop-down list, as shown in the image below.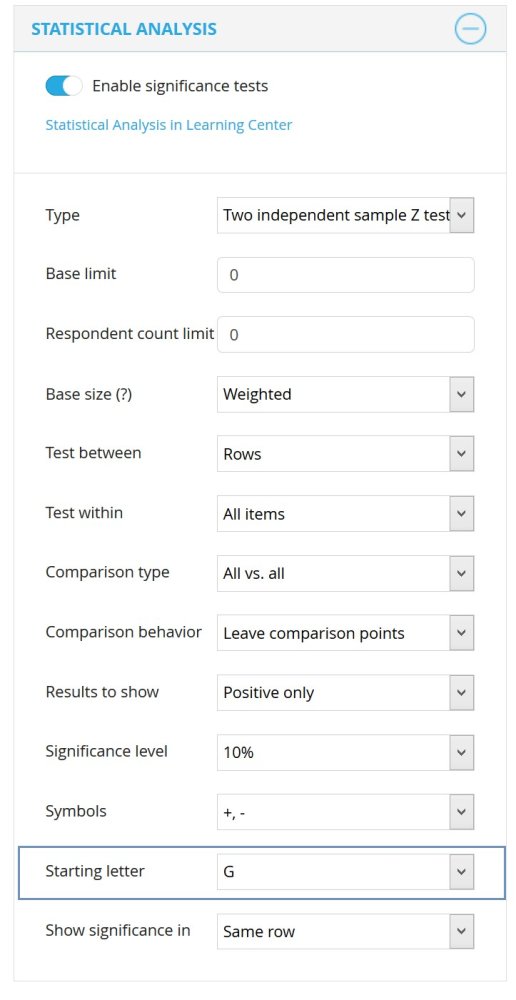 The option to select a starting letter will only appear when any of the following options are selected in the "Comparison type" list:
All vs All
First data point
Last data point
If any of the options below are selected, then you will not be able to set the starting letter (no letters are used with any of these options).
Next data point
Previous datapoint