When we now go back 'design/preview reports' we see our Open Answers Tab set up in our portal. We enter the tab and then we get the following functionality.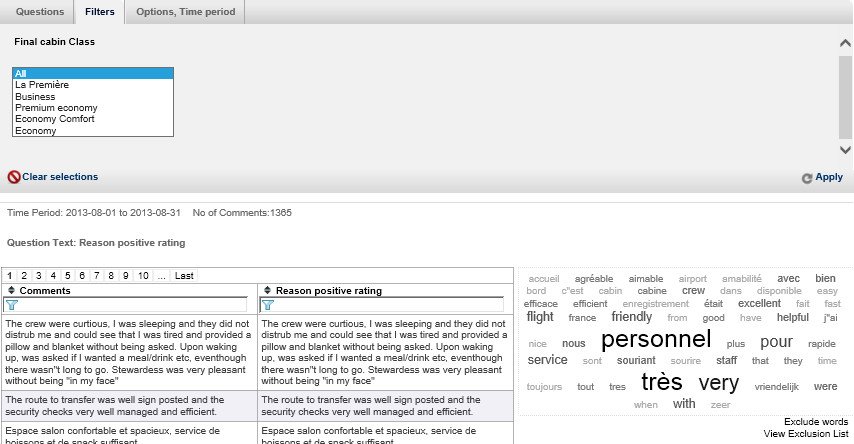 Across the top we have 3 tabs. Questions, Filters and Options, Time Period. On the Questions Page you select which Questions you want to report and which columns you want to add next to those Questions. You can select those from the two menu boxes displayed side by side.

Select a question and some columns. Click apply. Your open ends appear below the boxes in a ranking table.
Next to that you can see the interactive word-cloud summary. You can click on words in the word-cloud summary and see your ranking table further filter. Alternatively you can use the funnels placed above each column and use those for filtering as well. On the Filters Page you can select which overall filters to apply. Select a filter. Click apply.
On the Options, Time Period- Page you can change the actual look and feel of your Open Answers Module. 1st column: Change the page size: how many lines of text will be reported in a single view? 2nd column: Change the time-period you wish to report on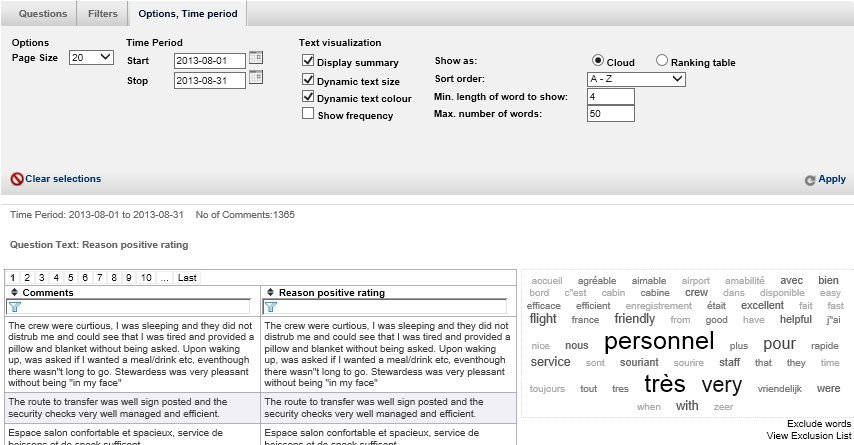 And then next to that you see the same overview table we had inside Setup tab content where we can fine-tune our actual Word Cloud Summary. Finally on the right of our screen right below the word cloud itself we can exclude words.

Click on the Exclude Words button and then click on the words inside the word-cloud you want to exclude. The words then appear as striked out.