StoryTeller report can be exported to PPT, Excel, and print. The export to PPT and print are always available and Excel could be turned on or off. There is an also an option to export content to a PDF. Additionally, there are settings to allow you to turn each export format on or off, as shown in the image below. These settings are located in the Layout Settings panel, and PPT and print are the default export options for new reports. The image below shows where to set up the export formats in the Layout Settings panel.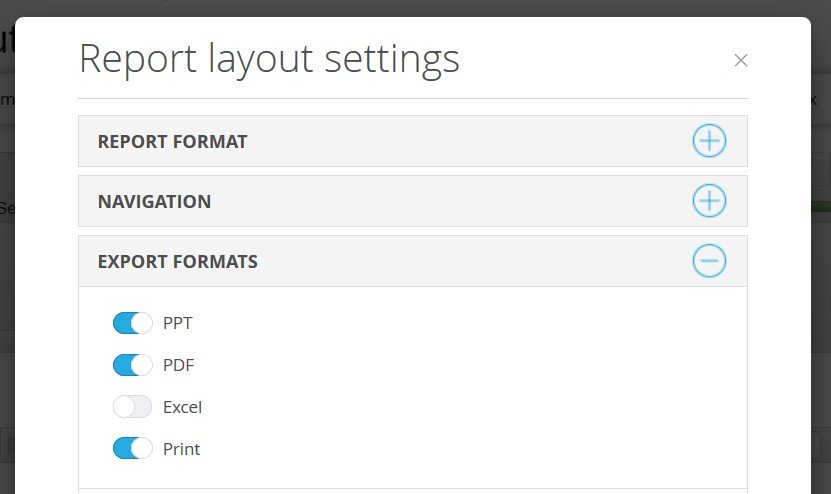 The PPT option is only available if the slide size formats are PPT 4:3 or PPT 16:9.
When exporting to PPT, a PPT .pot (template) file is always used. This adds a first page, header, footer, and the last page. This is different from the PDF export because the PDF is just an export of what is shown online and does not contain any additional first/last page or footers. If you want to add any slide numbers or footers, then you can use the new "Slide background" logic.
When exporting to Excel the values in the tables are formatted as numbers. The logic is applied by default so the user does not need to select formatting behavior. 
Note: If a cell contains multiple values, which can be the case when benchmark or ranking is used, the table cannot be formatted as numbers as a cell that for example contains "54% (+12)" cannot be formatted as a number in Excel in a single cell. As soon as a single cell cannot be formatted as number the whole table will be formatted as text to avoid issues such as where cells would have different decimals separators which can happen if some cells are formatted as text (separator chosen in the project settings page) and some as numbers (separator controlled by the regional settings of the user).
If you have a custom code present in your project, that changes the default layout of some object or affects the report in other ways and you need a PPT print out that exactly matched what you see on screens, then you need to adjust these settings on Project settings page. On the Project settings page, a new Custom HTML tab is present and this tab needs to contain your custom code in order to be applied to the PPT exports.
The Online and PPT export custom code is not always identical. For more details and information, please contact support team.
Due to the nature of the export of tables to PPT, the custom code cannot be applied when exporting the objects 'Tables' and 'Cross tables' as native PowerPoint objects (i.e. it will only be applied to tables when those are exported as screenshots).
Note: The PowerPoint exports from the StoryTeller and Form reports support production of output in.pptx format as well as .ppt format. To generate .pptx output, you have two options:
update the PowerPoint template file connected to your Theme (the template file will need to be a .potx file, which can be created in Office 2007 or later versions. If you have access to the File Manager you can replace the existing .pot template file with a new .potxone. If you do not have access to the File manager contact your account manager for an update, the update requires 1 hour of billed work per theme.) or

upload a theme separately for your StoryTeller report. Click

here

for more information.