First tab under Portal Design is Portal tabs. 

By using functions under Portal Tabs you can add different components for your online report. Those components will form the overall structure and functionality of your finished portal. They will be shown as Tabs across the top of your finished portal. This is an example of how your project may look like with some functional tabs. In the example below you see the tabs: Overview, Demographics, Open answers, Cross table and Chart creator.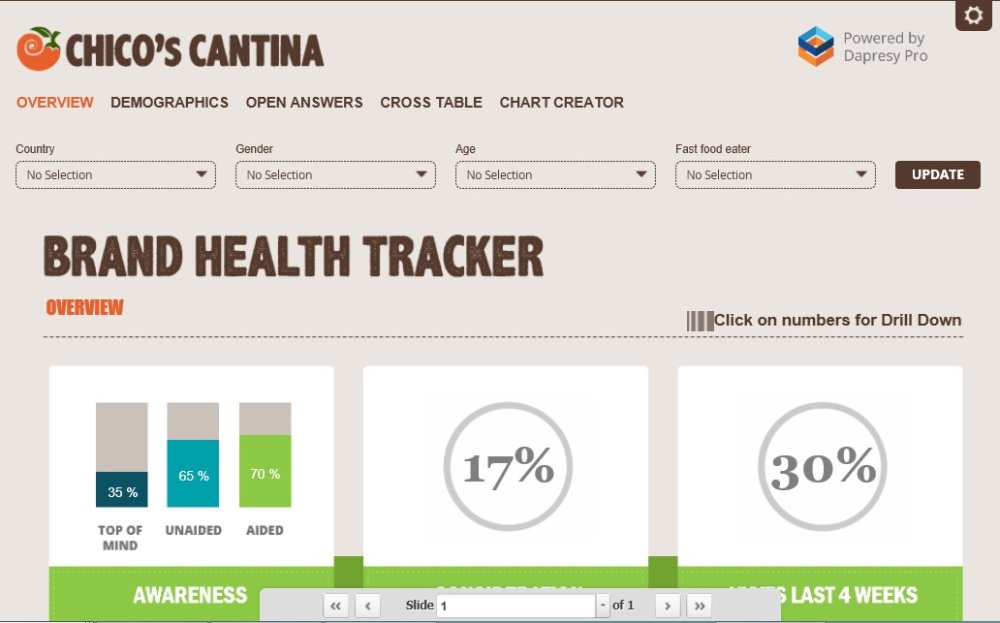 Once you are on Portal tabs, you will find Type dropdown where you can select different modules or reporting components that you can rename and that will be shown in your project. Each module you add to your portal will show as a separate tab.
Select from the drop-down menu Type; then assign a name for the tab and click save at the top. You can only add 1 tab at the time. Inside each tab you can create sub navigation that will show as drop-downs in your tab of your portal. You simply select sub-navigation in the box next to type. You will also notice that not all the components have the subpages option available (For example StoryTeller doesn't have sub-navigation available. However, subpages can be added as you enter your portal by clicking the Design/Preview Reports button at the top).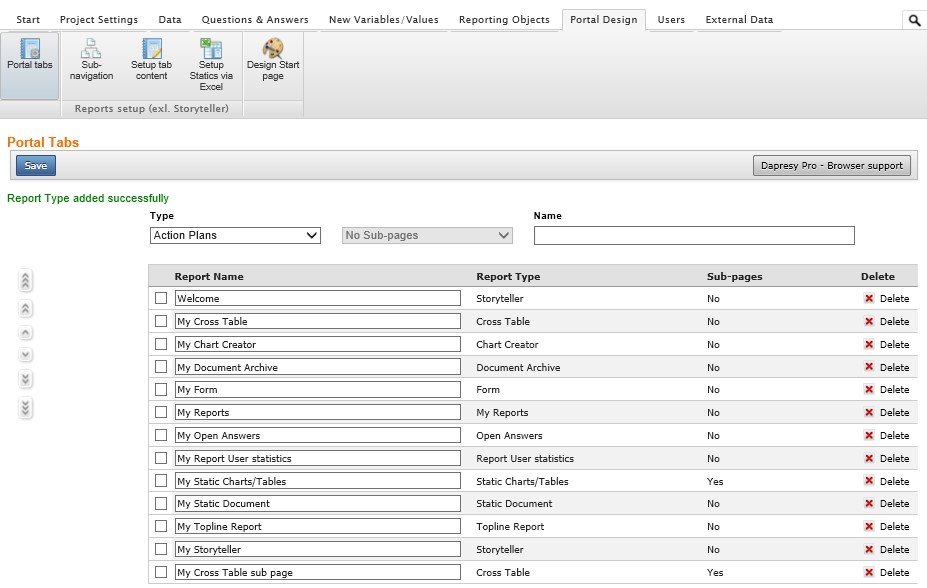 The modules you add will appear as tabs across the top of your portal. They run from left to right. So if you add a Topline module 1st – it will appear as the 1st tab across the top of your portal on the left side, just after the welcome page. You can try this by adding 2 modules and then clicking the 'design/preview reports'-button at the top. To change the order of your tabs access the Portal tabs, check the box next to tab and use arrows on the left-hand column to move your tabs up or down in the menu. They will then move left or right in your portal if you click the 'design/preview reports'-button.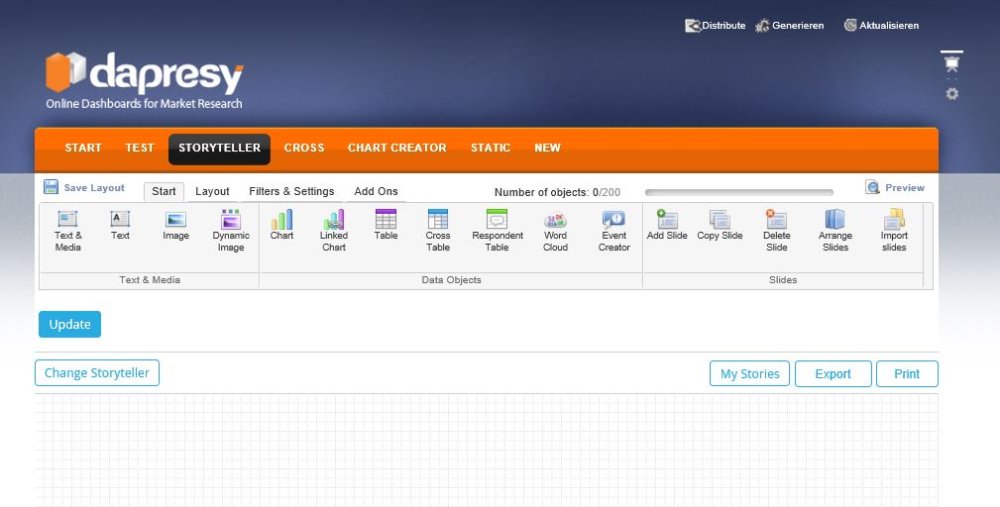 As you create new project, a StoryTeller named 'Welcome' is added by default and has the following text: "Welcome. Let's get started making your first report". If you do not add sub navigation your module will show as a main tab that can be clicked on. If you do add sub navigation the main tab will have a drop-down menu of different elements. 
Before we begin, let's take another look at Dapresy Pro's different modules and what they can be used for:
StoryTeller – Create rich dashboards combining numerous elements such as slides, charts, tables, cross tables and media.
Cross Table Tool – Running cross-tables to analyse your results.
Document Archive – Upload and store project related content for your client to download.
Form – Use this type of report in Enterprise Feedback Management for input variable or other type of data for real time analysis functionality.
My Reports – Add a My Reports component, a scratch-pad to store your own charts for later consumption. (My Reports only can be used together with the Chart Creator)
Open Answers – Analyse your open ended answers.
Report user statistics- see if and when report users have logged on to and/or viewed a project.
Static Charts/Tables – Set up static charts, slides and tables for your end client.
Drilldown - allows a user to click a datapoint in a StoryTeller chart/table to drill into the details of the respondents behind that data point
We are now going to build our actual portal. We do that by adding combinations of the modules listed above. As we begin building our portal we need to carefully consider what combination of modules our portal will require. Modules StoryTeller and Topline can be used instantly. Simply click on the Design/Preview Reports button at the top to get an instant view of your portal and the modules you added. If you added all of them as in our example then by clicking on Design/Preview reports your portal will look like the screenshot at the bottom of the page.
Module StoryTeller (and Drilldown) can also instantly be used for charting, cross-tables, adding media, comments etc. Welcome page that is added by default is a StoryTeller and it's added as a blank module to be populated as you enter your portal by clicking the Design/Preview Reports button at the top.
Chart Creator, Open Answers, Cross Table Tool and Static Charts/Tables cannot instantly be used. They will be blank portals without content. You will have to set up the relevant content (charts, tables) by using the Setup Tab Content tab.
When adding portal tabs and setting up sub-navigation please consider following as a simple example. Within data management we explained Question Blocks. You may have created a Question Block which is called "New question block" containing all the awareness questions. It then makes sense to either set up an entire tab (can be charts, tables, open-ends) which is also called "New question block". Alternatively you may choose to set up sub-navigation and create a sub-tab (charts, tables or open-ends) which is called "New question block" inside an overall tab which is called 'Brand Health' for example.