The Mail templates are created in the Mail template tab (see the image below). In the tab the already created templates are shown in a list from which they can be deleted or edited. 

To create a new template click "New template" and a popup window appears. Name the template and define the following:
Email subject
Email content which
a. Header
b. Respondent details
c. Footer
The Header and footer is normal text while the Respondent details are values from the data. When creating the templates the desired variables are added to the Respondent details part and when the Event email is being sent out the variables will be replaced with the actual responses.
In the example email below the blue part is the Header, the green part the Respondent details and the red part the Footer. The Header and Footer will be the same in all emails but the Respondent details will change based on which respondents that triggers the conditions for the event.
Please be aware that these emails are unencrypted. Our recommendation is to exclude the personal identifiable information in this, but to redirect the report user to the dashboard to retrieve this information there.
Note: if the Event Email is set up to send one email with all respondents to the recipient and the Event email contains more than 50 respondents the respondent information will not be inserted in the email body, instead it will be inserted in a text file which will be attached to the email.
There is an option for HTML formatting of emails in Event server and HTML support for styling, such as adding images or logos, to have a customised look and feel of email messages. Email can connect to reports.
The following options are available on the email setup page:
Options to choose plain text or HTML.
Plain text does not have a direct link button, because you need to send email as HTML to have the link included.
Possibility to Preview email, prior to sending it.
Linking images to StoryTeller reports. If user adds an image to HTML editor, then it's possible to link this image to selected StoryTeller reports and slides.
To link the image to a report or slide, it's important to use 'Insert Direct Link' to connect to the report.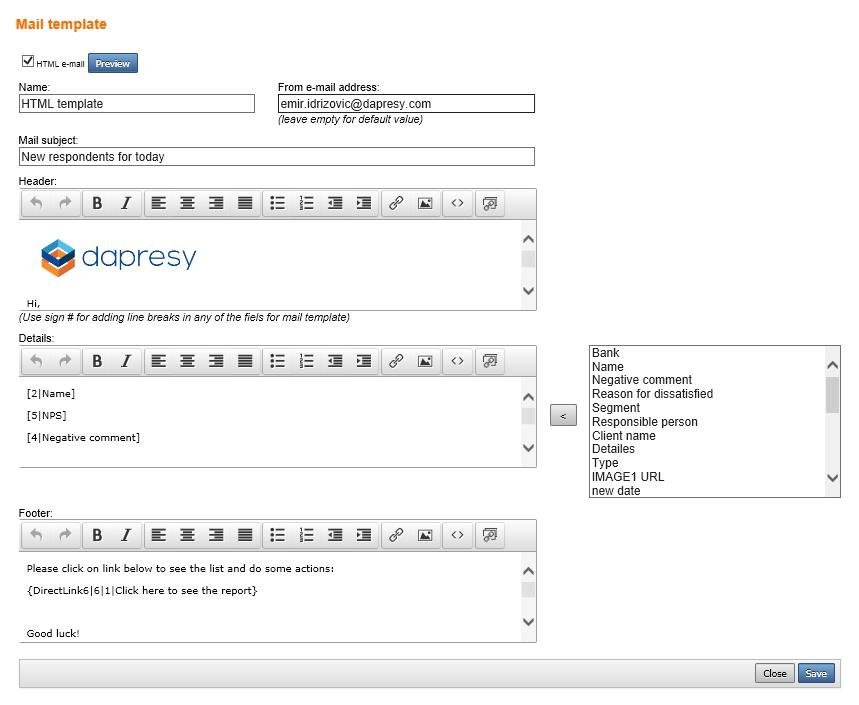 After applying HTML styling, the email template can look as shown here: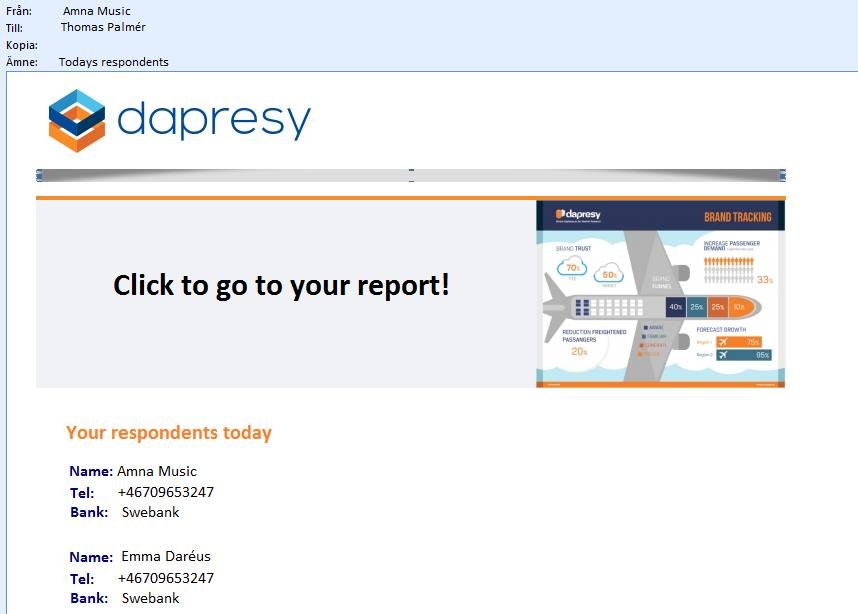 The option for sending the emails in plain text still exists, as all organisations don't have support to show HTML emails correctly.